Changing the brackets type is a no-brainer in Brackets Ninja. By changing brackets type, you are basically changing the type of tournament, with each one having its unique features, options, and characteristics.
Important Note: With the basic version, you are limited to just a Single Elimination bracket type with 16 participants. All other brackets are available in the different premium versions of Brackets Ninja.
Want to understand the different types of bracket types? Head over to:
Understanding Different type of brackets/tournaments in Brackets Ninja
To change the brackets type, click Settings, under General, you will see Bracket Type. Click the small arrow for the drop-down menu to appear and you will have a total of 10 brackets to select from.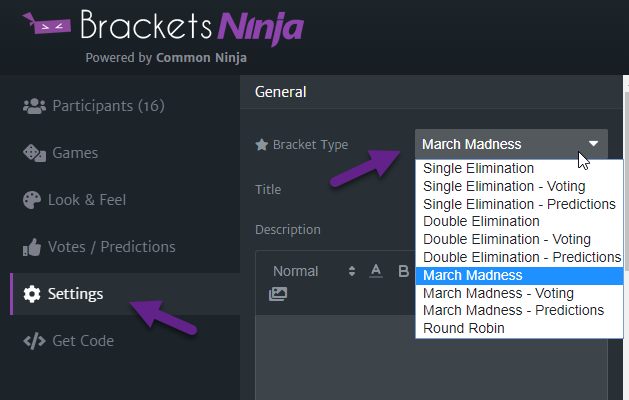 And that's pretty much about it. As always, you need any help, we are just a message away!
Brackets & Tournament Maker
This Article refers to Brackets Maker. Generate any Kind of Online Bracket or Tournament Quickly and Easily for FREE and embed it in any website.
Create Brackets