Squarespace is a very popular cloud-based web development platform that allows novice and professionals to create stunning websites in minutes. Whether you want a personal blog or a professional looking ecommerce website, Squarespace has got you covered!
In this tutorial, we will show you how to add your plugin to Squarespace. Adding Code in Squarespace is similar to adding one in Wordpress. It is all based in blocks.
1. First, you need to copy the widget's HTML code. There are several methods to do so.
Method 1: From the Widget's Editor
Once you've saved your widget, at the top right corner, to the left of the "preview" button, you will see the "Add to Website" button, represented by the "</>" symbol. Click on it.

Then, in the window that opens up, you will see the code. Simply click on the copy button next to it.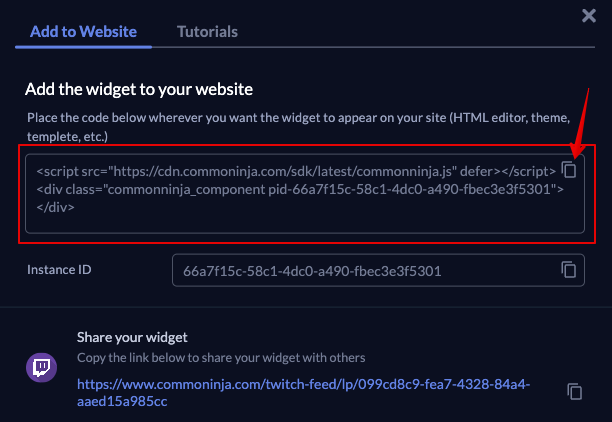 Method 2: From the Dashboard
From your user dashboard, find the widget you want to add to your website from within the "Widgets" tab. Next to it, and under the "Actions" heading (on the right side), you will see a purple button with "Add to Site" on it. Click on it.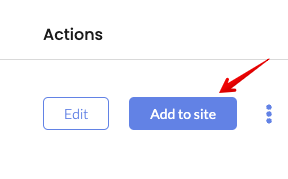 A window will pop up, and here, simply click on the copy button next to the code to copy it.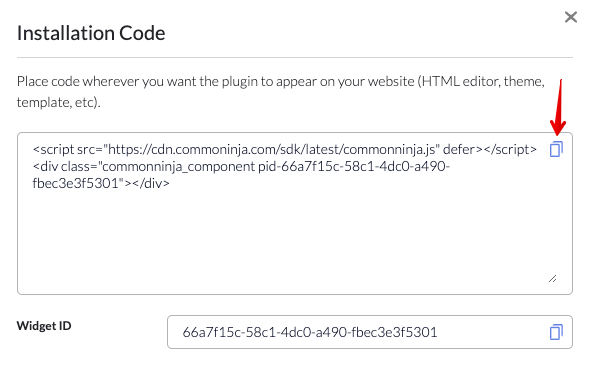 2. Login to your website. From your dashboard, go to the blog posts you want to edit or add a new one. Click the Icon on the left corner.
3. The way Squarespace works is in block format. Every paragraph, quote, image, HTML code, etc. is in a separate block. To add an HTML code, you need to add a block. To do this click, the small icon and then hit the Code option from a new popup dialog.
4. Now enter the code and press Save.
5. You will be able to see your plugin!