It's very easy to add Common Ninja's HTML code to Opencart.
1. First, copy the app's HTML code. To do so, in the app's dashboard, go to "Add to Website". Here, click on the green button (it will automatically copy the code).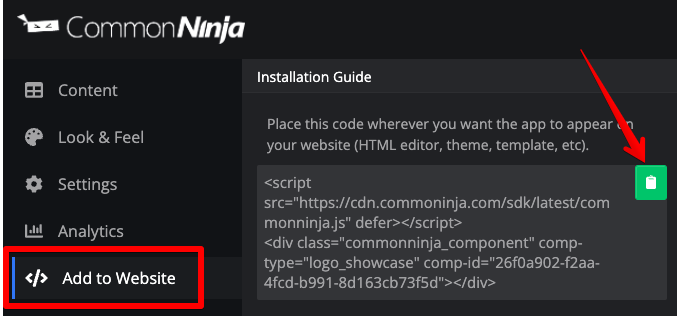 2. Next, go to your Opencart dashboard, and follow this path: admin → Extensions → Extensions. Choose the extension type "Modules" and then find the "HTML Content" module and install it.
3. Then, after the module was installed, click the "Add Module" button. A window will open up. Click on the "</>" icon and paste the code you've copied before. Click on the icon again to save it.
4. Finally, go back to the admin dashboard → Design → Layouts and edit where you want to show the module. That's it. You should see Common Ninja's app on your page.