March Madness is one of the most common types of the tournament and has rich features in Brackets Ninja. You will not only love the features, but can create, and completely customize the entire tournament's look and feel, settings, scores, etc. as per your tournament rules.
Before moving forward, a march madness tournament is a single-elimination type of tournament with a history dating back to the NCAA. Since the tournament was started in March and continued till April, it is called March Madness. Usually, there are 68 teams playing on three weekends.
Luckily with Brackets Ninja, you can have a march madness with minimum participants of just 8 teams. A march madness tournament example can be seen as follows with 8 participants:

Throughout the entire example, we will be proceeding with 16 participants in the March Madness Tournament. We have created all teams with their logos and description. To add participants, change logos and add/edit title/description, follow these tutorials:
How to add a logo to your team
So, by following the above tutorials, and without further ado, here is how to create and manage a march madness tournament in Brackets Ninja.
Go to Settings, and select March Madness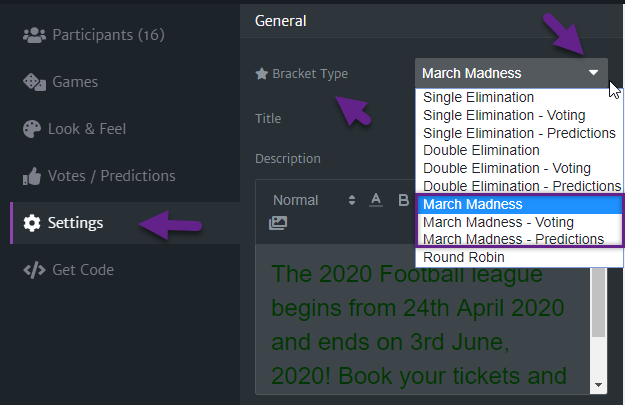 Since we have already created all 16 participants, here is how a March Madness tournament would look like.

There would be Semi Finals, Final and Final Four Match among each 8 participants divided. Then the 2 Final Four matches will be played, and each winner will be brought to the last round of the tournament, i.e. Championship which will eventually decide the winner of the tournament.
To select winners for each tournament, you can also follow this complete tutorial that applies for all tournaments.
How to Select Tournament Winners and Update Scores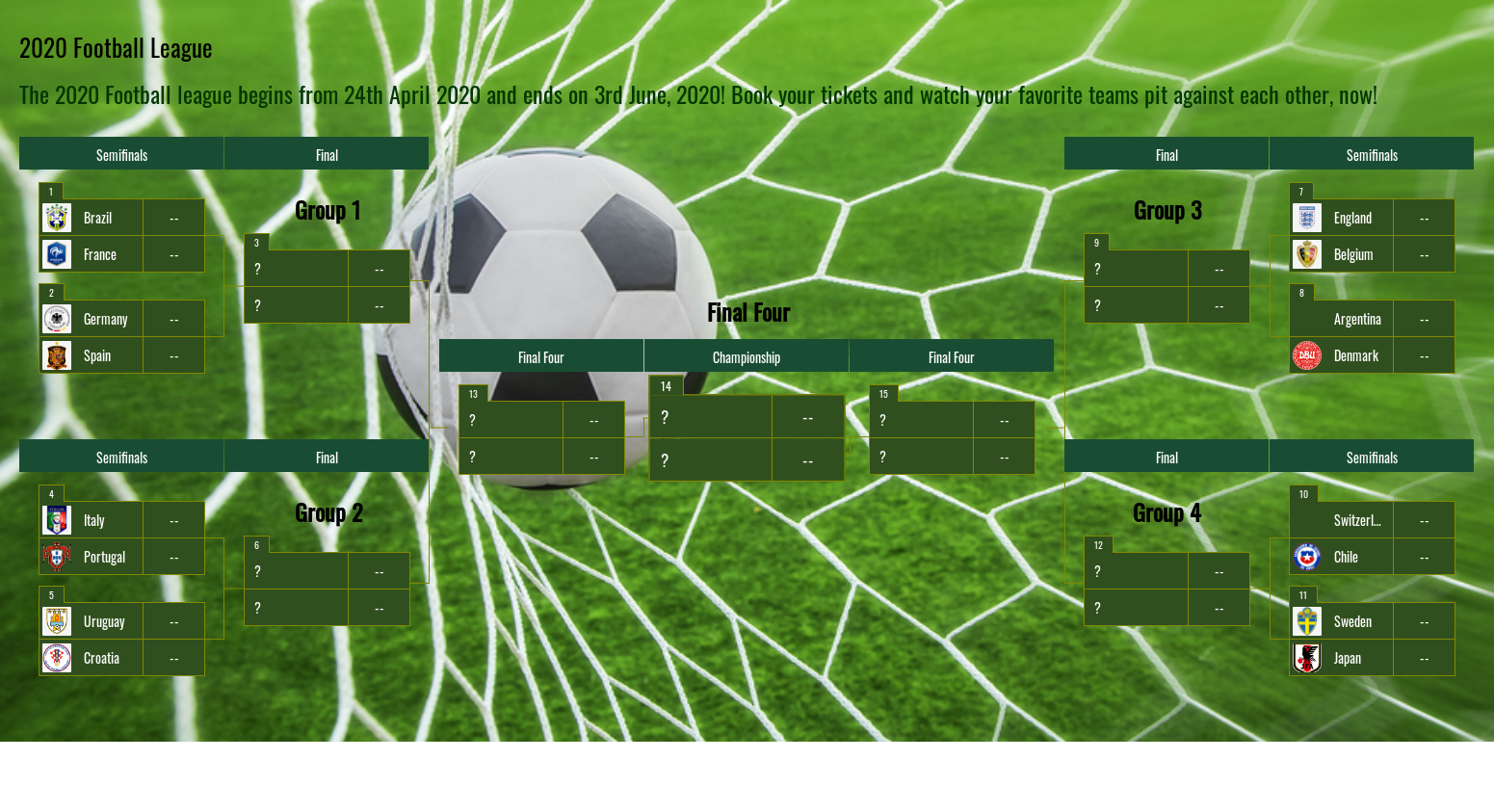 Now is the time to select winners for each round. Starting off, here is how you select winners (Selecting Winners and updating game scores is the same across all tournaments. Click here on How to Add Winners and Game Scores). Click on Games

, then for each group, start from Game 1, Game 2, etc. Click the arrow to expand. Select the winner, and update the game score for both participants.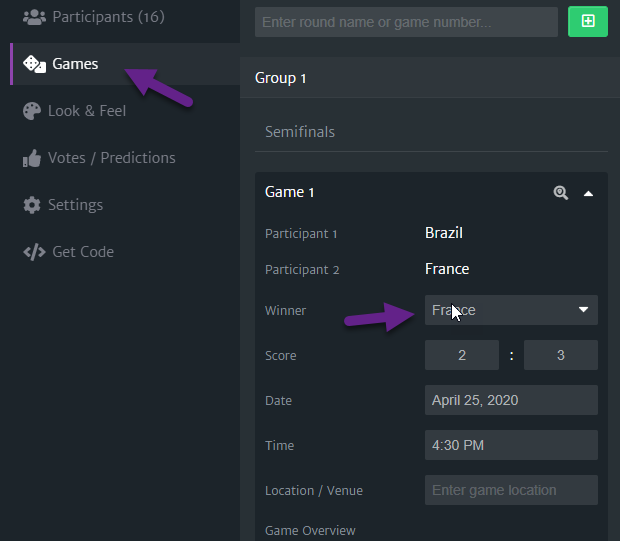 This is how the winners will be shown. Each winner will be shown as BOLD.


After selecting all the winners and updating scores for each game, here is how the March Madness Bracket/Tournament would look like. Remember, you can only select winners and update scores AFTER you save all changes and publish the bracket, i.e. Start the Tournament.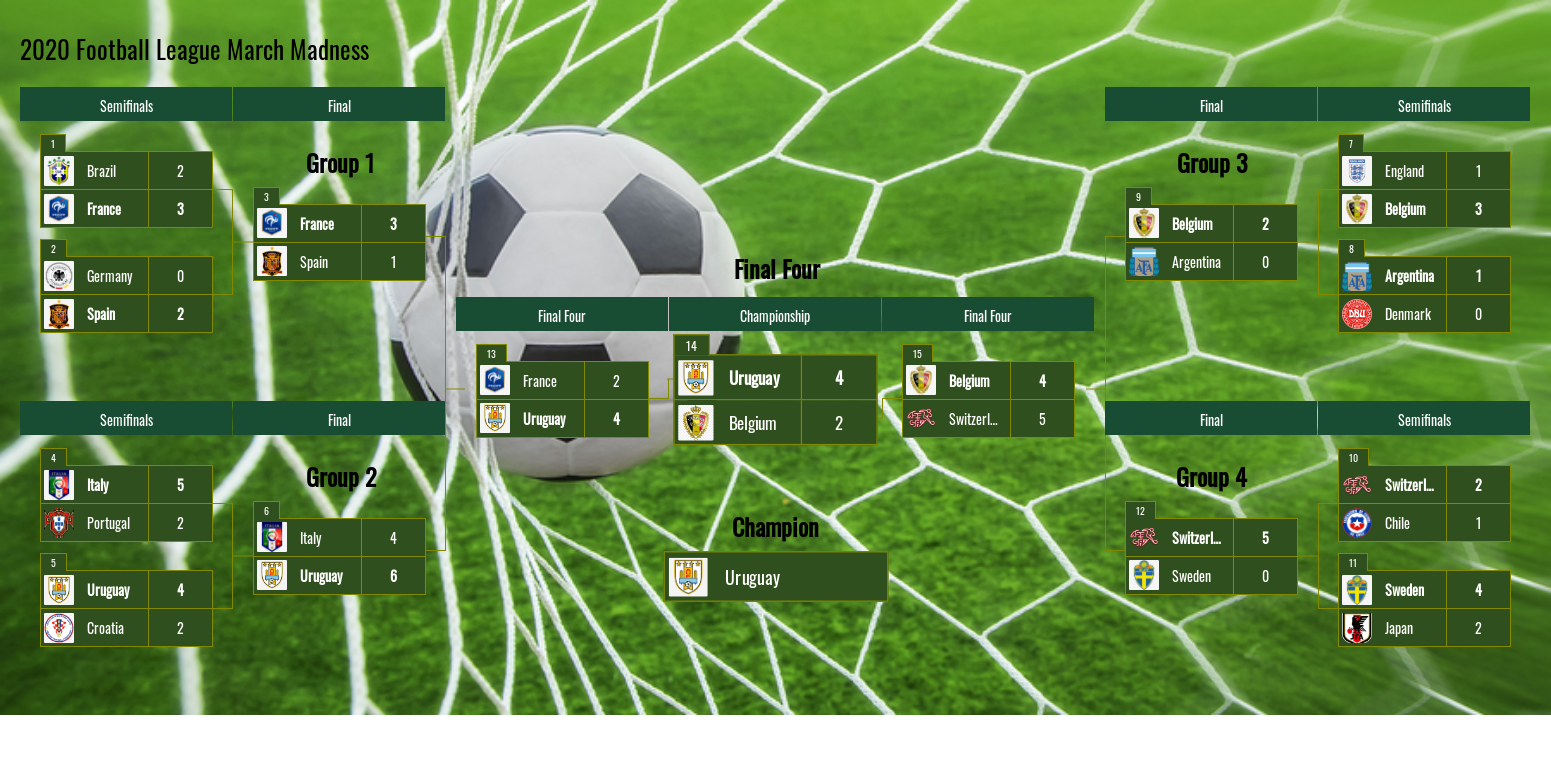 And this is how it works.
You will see 4 groups among which 16 participants are equally divided. Each Group has Semifinals and a Final Match.
Every winner from Group 1 plays against the winner from Group 2.

Every winner from Group 3 plays against the winner from Group 4.
Then we have the Final Four:
The winners from Group 1 and Group 2, play against each other.

The winners from Group 3 and Group 4, play against each other.
The winners from the Final Four play against each other to claim the Championship of the tournament.
To have a complete picture of the March Madness Tournament, we strongly recommend you to enable all features.
We have covered all features of starting, and managing any tournament herein:
[Need to provide links to the Settings and features, or we need to put them in details here as well]