A voting bracket enables your users to vote for their favorite teams of the tournament. Every type of tournament has a voting bracket, which provides this essential feature.
Note: Only the premium version of Brackets Ninja has voting brackets
The following tutorial applies to all types of tournaments whenever you want to enable voting brackets. The features and options also remain the same regardless of the bracket you choose.
Go to Settings, and click the dropdown menu in the Type of Brackets field. You will see a number of tournament types here. Select a voting bracket, depending upon the type of tournaments you want, such as single elimination, double elimination, or march madness.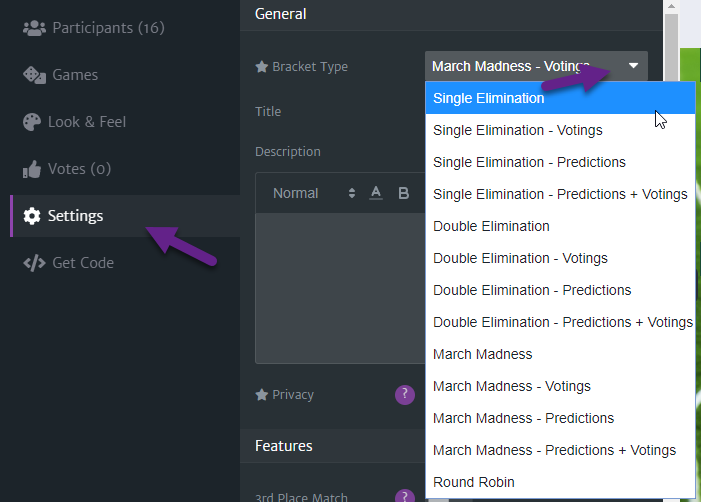 Whenever the voting feature is turned on, and once your users start voting, you will start receiving voting entries. It is important to note that your users won't be able to vote before the tournament begins. To have a look at the voting entries as well as the settings for votes, head over to Votes.

You will now see a myriad of options here.
To change the Button Text, enter the text of your choice and it will be immediately reflected on the bracket.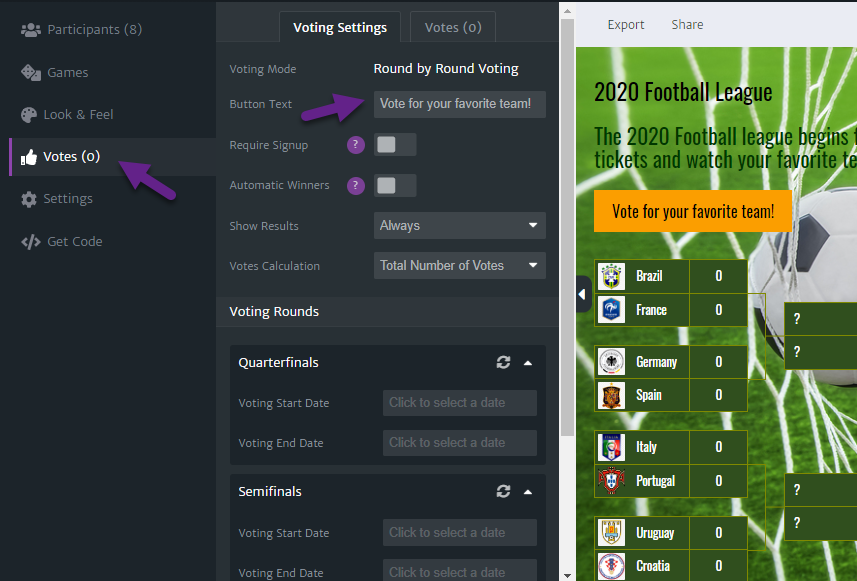 If you want your users to sign up before voting, then enable this option by turning the slider in the Require Signup. By default, Ninja Brackets uses IP addresses to identify unique votes. By turning this feature on, your users would require their Full Name and an email address to sign up and then proceed with voting.
Another feature is the option to enable Automatic Winners. If you are busy and want the bracket to automatically move the winner to the next round without your manual input, then turn on this feature. The winners would be moving to the next round automatically, and in case of a tie, the final winner/champion would be chosen randomly.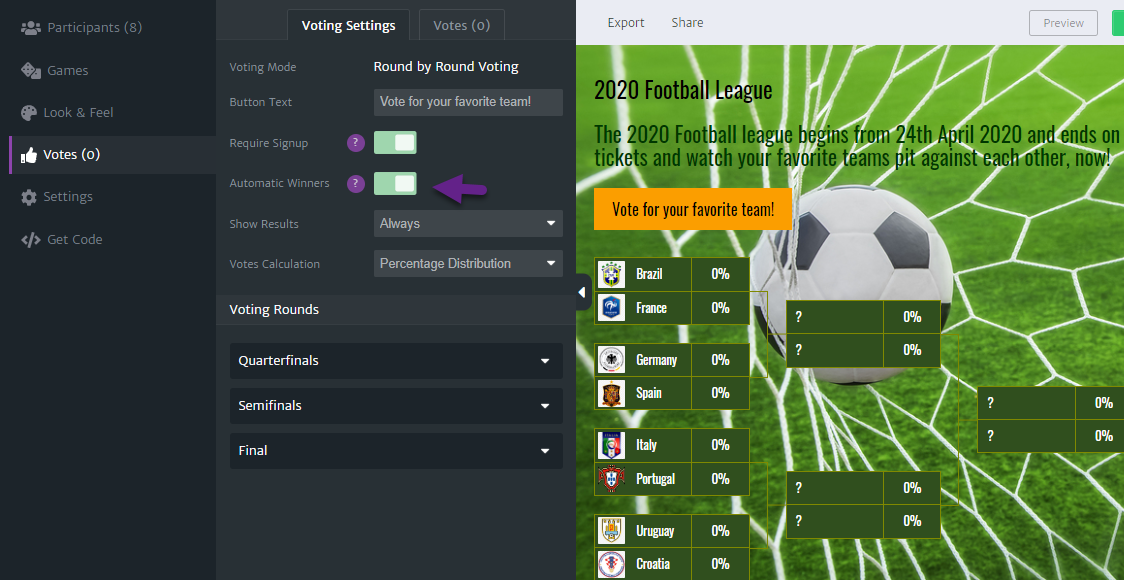 Right next to the View Results feature, you would have 4 options and based on your choice, you can select any that you want: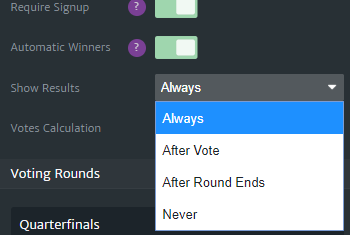 Always

- Results will keep on updating and always be displayed to your users.

After Vote

- Only after user votes he can see the results

After Round Ends

- Votes can only be visible once the voting round ends

Never

- Votes will remain hidden, and only visible to the admin, i.e. you
The next feature is to show votes as a percentage calculation or by the total number of votes. It is up to you to choose either way.

Here is how both features would look like on the bracket: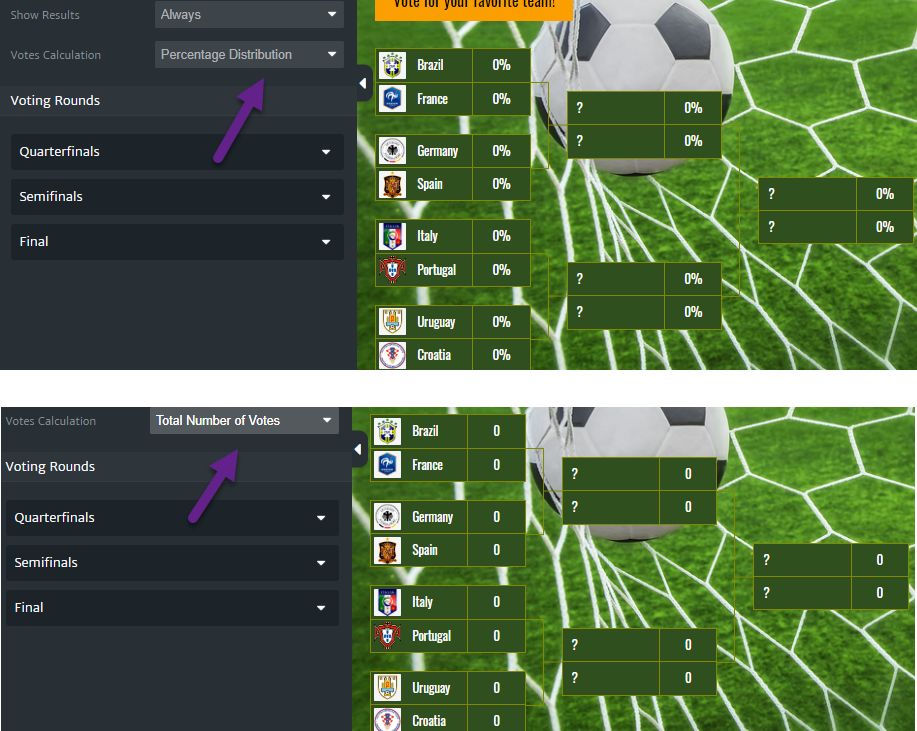 Next comes the Voting Rounds.

The voting rounds vary based on the Quarterfinals, semifinals, and final for your match. Click on each to expand their features. From here on, you can select the Voting Start Date and Voting End Date for each round as follows: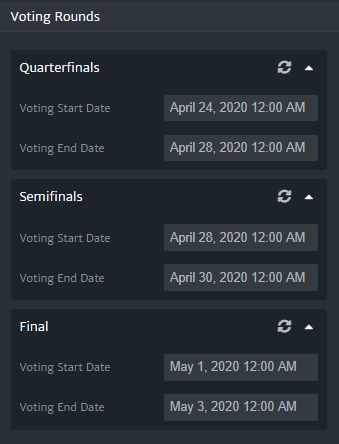 If you want to reset the votes for each round, simply click on the two small arrows icon right next to each round and a new popup window will display. Remember, this is an irreversible action and once you reset, you will lose for votes for that round. If you wish to proceed, click Reset Votes and all votes will be restored for that round.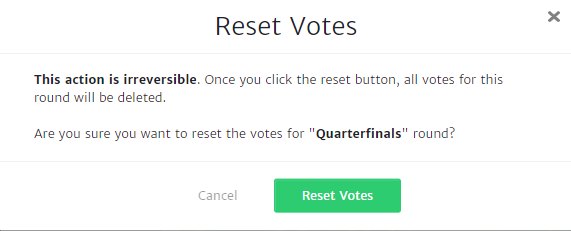 A few points that need to be added herein:
Before starting the tournament, you need to set start and end dates for each voting round. In case you forget to specify a voting start/end date, you will receive the following error message: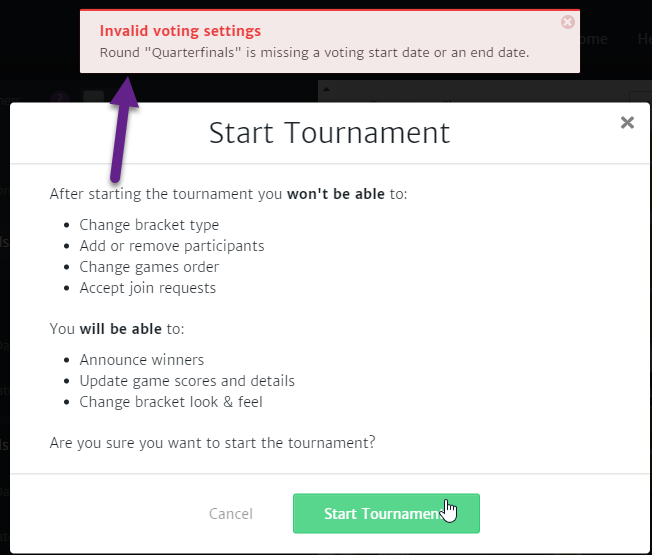 Now that your bracket is published, you need to share the bracket with users so that they can vote. We have already covered it in the following tutorial:
How to share your bracket with users
Once your tournament is published and users start voting, you will receive voting entries. Here is how to access them. Click the Votes settings, and then Votes in the panel. You will see the entries of all people and the number of times they have voted for each team. Along with their votes, you can see the date and time at which the vote was registered. If you require to sign up, you need to enable the Sign-Up option to be able to collect the Name and email address of the user before he/she votes.
To delete a vote, click the Trash icon.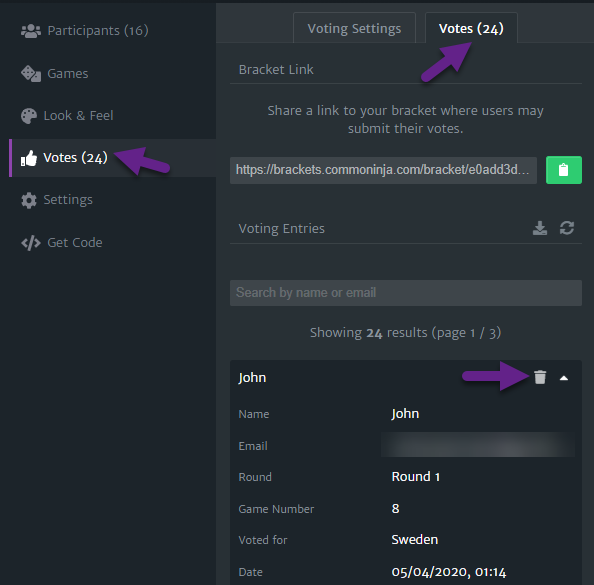 To download a report of all voters, click the download icon and a CSV file will be ready to download in a few moments.

From the file, you can always see the list of voters and their votes.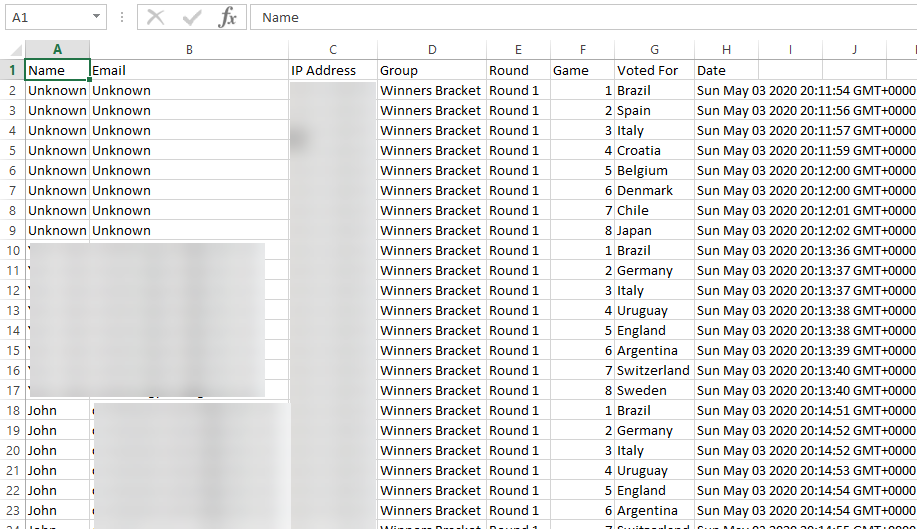 Brackets Maker
This Article refers to Brackets Generator. Generate any Kind of Online Bracket or Tournament Quickly and Easily for FREE and embed it in any website.
Create Brackets