We will refer to Participants as Players or Teams in this walkthrough guide for a better understanding of our users. There are 3 ways of adding participants in the brackets:
By clicking Add Participant
By clicking the icon at the top right of Participants

details.

By bulk uploading from other accounts
Participants are the players of every tournament.
To add teams, click Participants in the upper left corner of the Dashboard. By default, you will see 4 Participants added. To add a new player, click on Add Participant.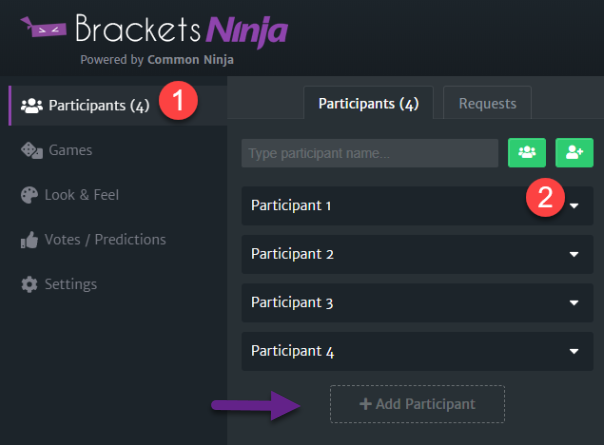 You will see the player name as Participant # which will progressively increase as you add more players. Now, click on the small drop-down arrow shown next to the participant. Please note that by default, all participants are named as Participant 1, Participant 2, etc. From this step onward, you can add or edit any participant using these steps.

By default, you will see the drop-down menu as follow: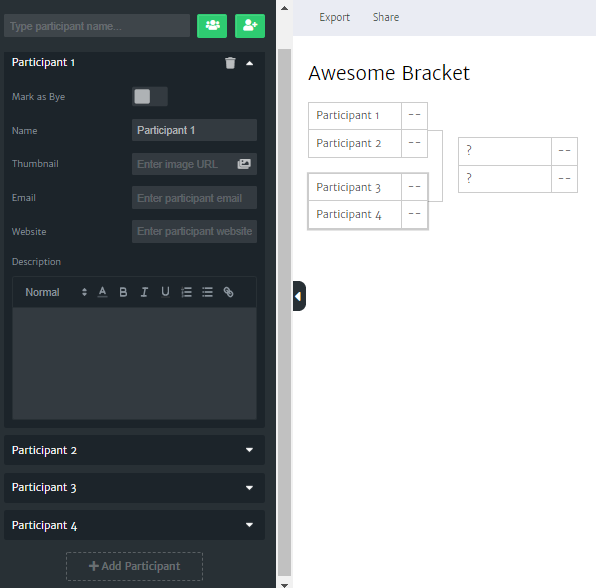 Once you make changes, you will see them immediately on the right hand side reflected in your game brackets. You have the option to change Name, Email Address, Website and add in some description for your players: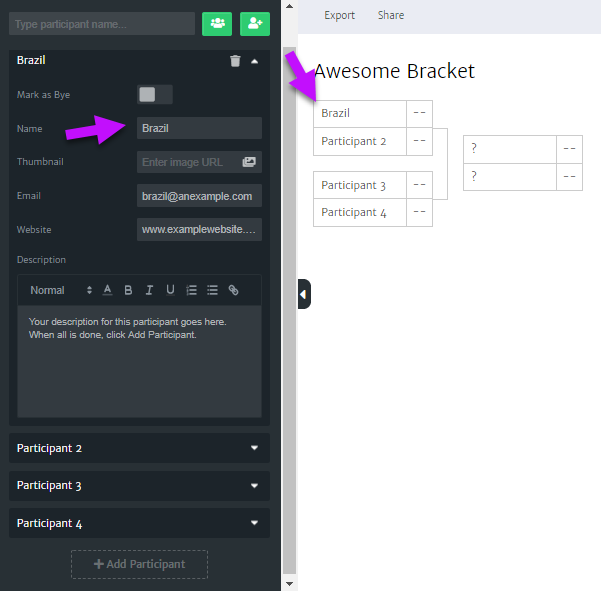 You can also add the logo to your player. To do this, click on the image icon in the Thumbnail section and browse for the image by clicking Upload Image. It is important to note that you cannot add a thumbnail on the basic version, however you can copy/paste the URL of an image in the text box.


Once the image is uploaded, you will see it like this. Click on the Participant logo and you will see it as follows:
So, there you go. Hope that was an easy one for you to follow. To add more participants, follow these steps and you can add as many as you want.
It is important to note that when you keep on adding more players to your tournament, the bracket will change itself automatically. Here is how the bracket looks like with 4 players: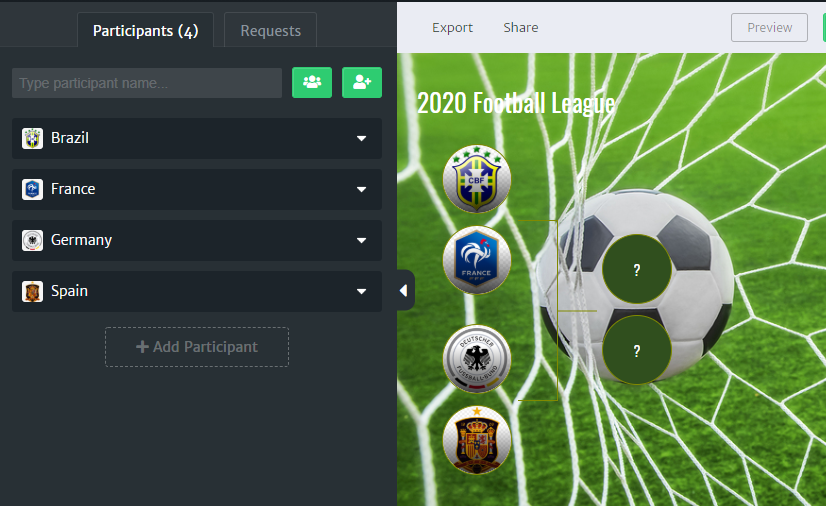 This is how the tournament would look like with 5 teams. Note that the plugin automatically adjusts the matches as you keep on adding more teams.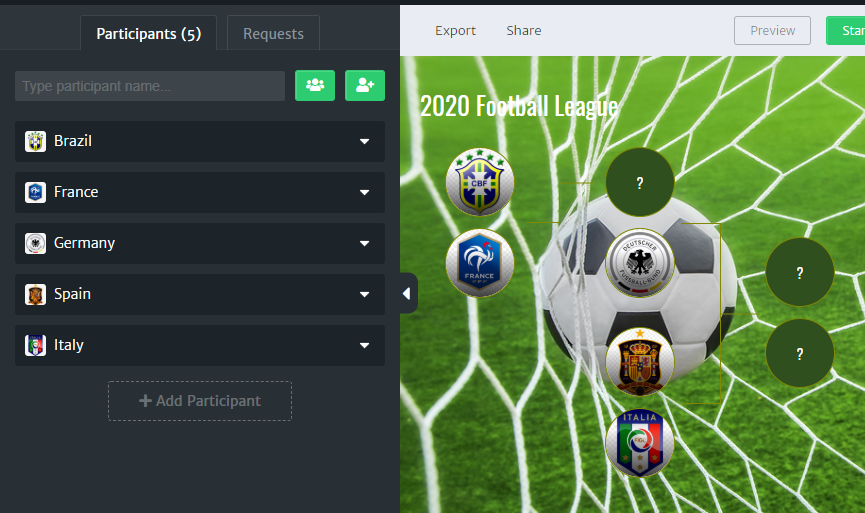 As an example with 8 teams. Using the traditional layout, here is how the tournament would look like: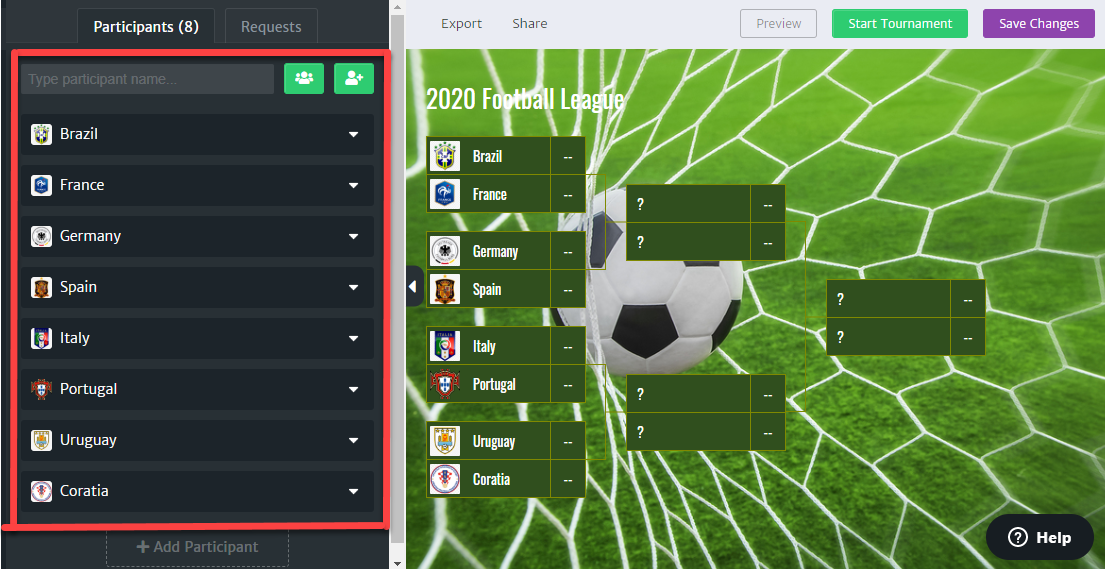 If you want to delete a player, hover on any team name and click the Trash Can icon. The participant will be automatically removed in an instant. Once removed, you may have to manually adjust the game for each participant.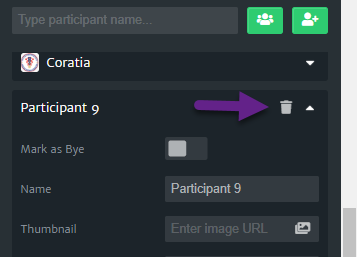 Brackets Generator
This Article refers to Brackets Creator. Generate any Kind of Online Bracket or Tournament Quickly and Easily for FREE and embed it in any website.
Create Brackets