A prediction bracket (also called Pick'em Brackets) enables your users to predict for their favorite teams of each tournament. This tutorial provides details on how to enable prediction brackets in Brackets Ninja. Prediction and Voting brackets work as follow:
You, our client, create a bracket and publishes it, setting a voting start and end time for predictions

.

During that time period, all predictions are received.

You select the winners of the game and complete the tournament.

The system then may assign a ranking for each submission based on the settings you have selected for predictions.
Note: Only the premium version of Brackets Ninja has prediction brackets
The following tutorial applies to all types of tournaments whenever you want to enable prediction brackets. The features and options also remain the same regardless of the bracket you choose.
Go to Settings, and click the dropdown menu in the Type of Brackets

field. You will see a number of tournament types here. Select a prediction bracket, depending upon the type of tournaments you want, such as single elimination, double elimination, or march madness.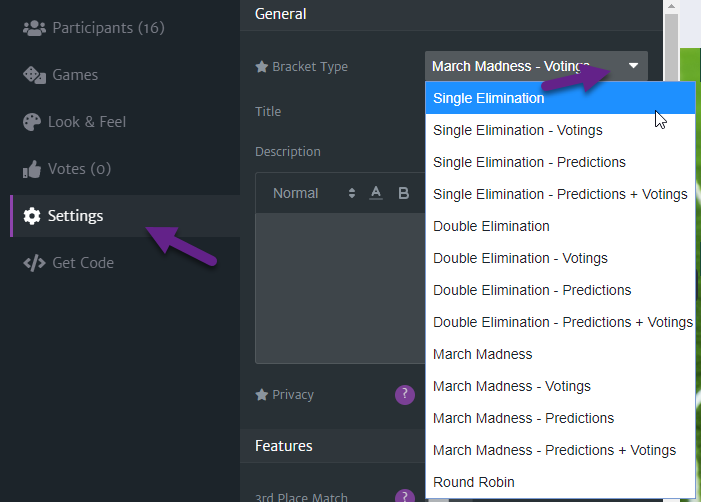 Whenever the predictions feature is turned on, and once your users start submitting their predictions, you will start receiving predictions entries. To have a look at the predictions entries as well as the settings for predictions, head over to Predictions.

You will now see a few options here.
To change the Button Text, enter the text of your choice and it will be immediately reflected on the bracket.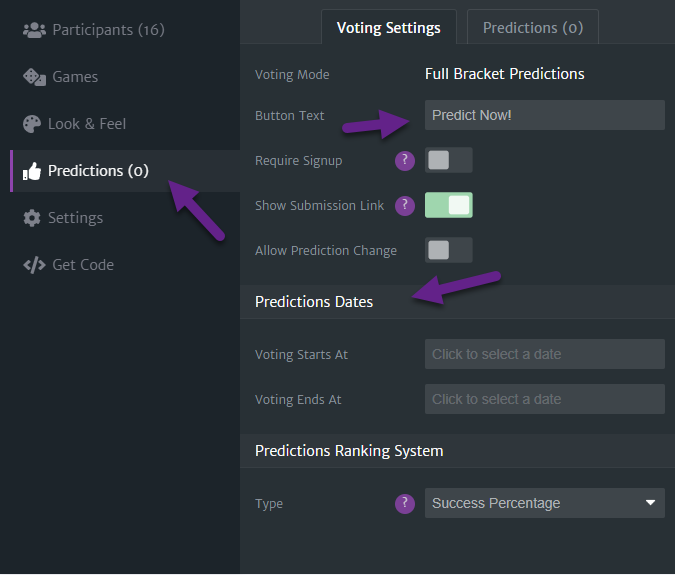 If you want your users to sign up before submitting their prediction, then enable this option by turning the slider in the Require Signup. By default, Ninja Brackets uses IP addresses to identify unique votes. By turning this feature on, your users would require their Full Name and an email address to sign up and then proceed with voting.
Specify the start and end date for your predictions - on which dates and time your users may submit their predictions. You can also turn on the feature of submission link, which will allow your users to receive a unique link for their bracket that they can view and share.
Another feature is the option to enable Allow Prediction Change. If turned on, your users can always change their prediction later on.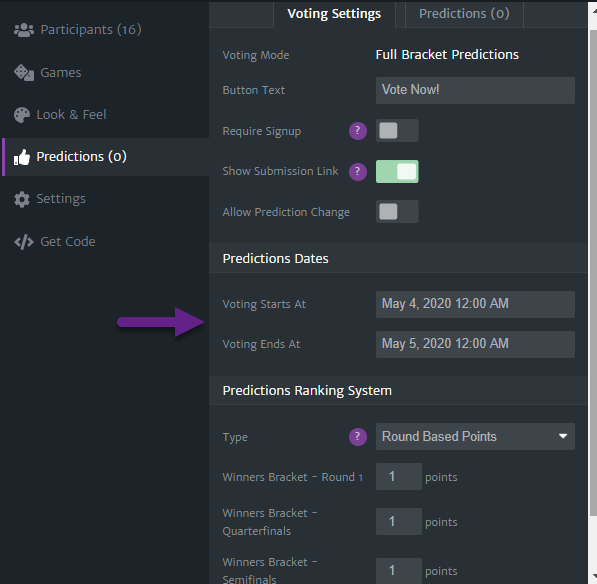 Under the Predictions Ranking System category, select the field of Type and you will have 3 options to choose from:
Success Percentage

- number of correct predictions (by game) vs number of games in the tournament

Equal points for all games

- equal points per round - a number that defines how many points each correct guess worth.

Round-based points

- you may define how many points each correct guess worth per game per round (mostly the more you get close to the final game, the more points you get).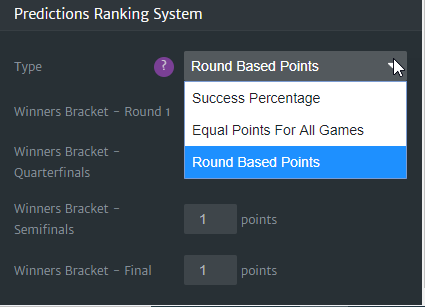 Now that everything is set up, you need to publish your bracket. In case if you forget to enter any start or end date of predictions, you will receive an error message: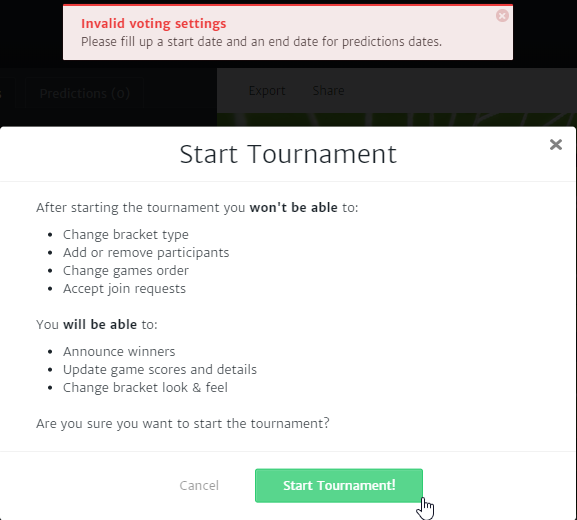 Now that you have published your tournament, your users will be able to vote. You can either require them to sign up with their names and email addresses or allow them to vote anonymously.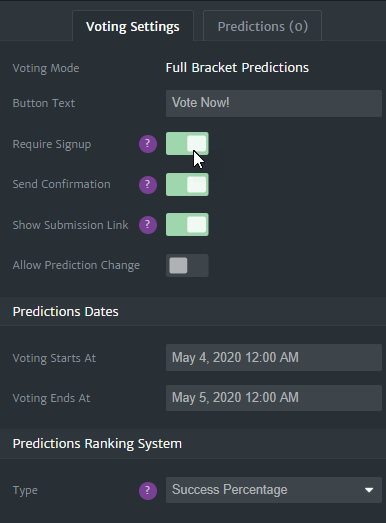 Once all settings are completed, share your bracket with users so that they are able to vote. We have covered this topic already:
How to share your bracket to users
This is how your users will be able to predict. Unlike voting brackets, predictions work differently. In voting, the users have to vote only for a specific round. In predictions, one user can vote till the final winner and see his bracket submissions.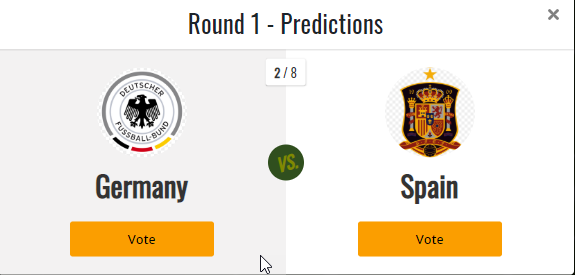 Once the user clicks View Submissions after voting period ends, each predicted winner will be highlighted: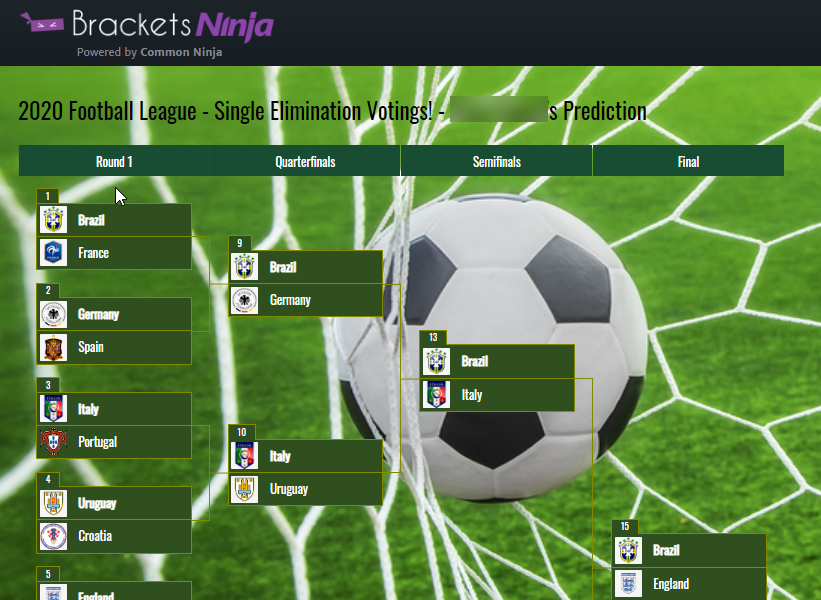 Now that voting has begun, here is how you will receive the entries under the Prediction tab. You can assign a ranking manually (or use the automatic ranking calculator instead) and see the name and email address (provided you have enabled Require Signup option) alongside date and time of each vote.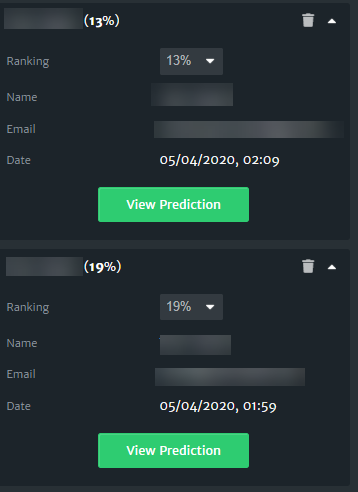 Under the Predictions tab and next to the Prediction Entries, you will find 4 icons. Here is each one:
Predictions Summary - A summary of all predictions
Download a CSV - A CSV file format for all voters, their names, email address, and the prediction for each round alongside date and time.
Calculate Ranking - The bracket will calculate rankings based on the prediction entries for you.
Refresh - Once you start receiving votes, you need to refresh the data and update it with new entries.
Here is how the prediction summary looks like. The prediction count will be listed against each team till the final winner.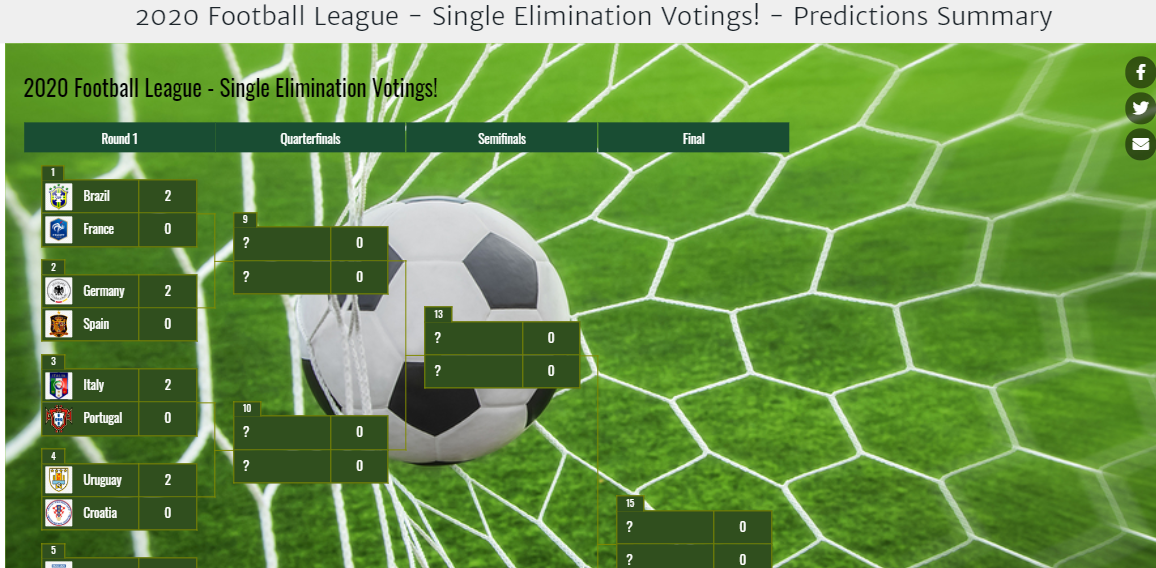 If you want to download the CSV file, click the Download Report icon. Here is how the CSV file will look like:

You can also calculate ranking score and here is how the scores will look like: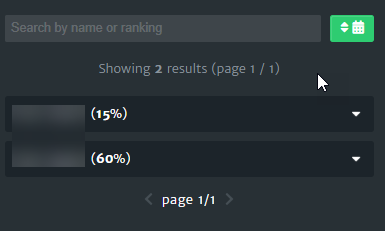 Now we come to the creation of the Ranking Table. It is important to note that ranking tables cannot be calculated on brackets other than predictions. If you have followed the above steps, you will be able to create a ranking table successfully.
Here is how to create a ranking table
Brackets Generator
This Article refers to Brackets Creator. Generate any Kind of Online Bracket or Tournament Quickly and Easily for FREE and embed it in any website.
Create Brackets